Leadership Coaching / Executive Coaching
Effective Leaders Build Positive Relationships and Climate

Are you focused on People or Performance? Are your leadership goals relationship or task focused or both?  Research shows that effective leaders demonstrate a balance between people (relationship) and performance (task) outcomes.  At Eden Park, we believe if you get the people part right, then the performance part often takes care of itself.  Leadership is also about environment and climate.  Effective leaders create an environment where people can do their best work.
Leadership Coaching
The International Coaching Federation (ICF) defines coaching as "partnering in a thought-provoking and creative process that inspires a person to maximize their personal and professional potential. The process of coaching often unlocks previously untapped sources of imagination, productivity and leadership." 

At Eden Park, we provide leadership coaching (or executive coaching) to people who want to be more effective leaders. Our clients may be formal or informal leaders – they may be aspiring leaders. We believe that anyone can be a leader.
Our definition of a leader is a simple one:  "a leader is a person who leads, a person followed by others, a person who guides or shows the way for others to a certain destination by going with them or in front of them, or guiding by persuasion or example or argument."
We believe that leadership always starts with a relationship, a one-on-one connection between the leader and the people they lead (or hope to lead). For this reason, our approach to leadership coaching always begins by focusing on interpersonal relationships.
Organizations today need people and leaders who can connect, engage, motivate, and build positive, collaborative relationships — emotionally intelligent relationships!
Everyone Needs A Coach
It is widely accepted – even expected – that all successful athletes have coaches.  And, even the most successful business people find benefit in having a coach.  Coaching helps facilitate leadership development.  It fosters creative thinking and positive change through a process of thoughtful reflection and feedback.  Coaching helps people see things and work things out from a different perspective.
Eden Park Approach
At Eden Park, we follow the professional practices of the International Coach Federation (ICF). The ICF is the leading global organization dedicated to advancing the coaching profession.  We have been trained as Professional Coaches through an ICF-accredited Training Program (Adler International).
Our coaching approach is complemented by practical experience and current research in the field of leadership development.  We draw from the fields of Organizational Psychology and Organizational Behaviour to inform the coaching process from a content perspective.
Organizational psychology is the study of individual and group behaviour in organizational settings. Organizational behaviour is a broader field which studies the structure and management of organizations, their environments, and the actions/interactions of their individual members and groups. Organizational psychology draws primarily from the field of psychology and organizational behaviour draws from a variety of disciplines including psychology, sociology, anthropology, and economics.
We provide flexible tailored coaching based upon your preferred coaching focus (business and/or personal) and time horizon.
Eden Park Outcomes
At Eden Park, we focus on positive results.  We help people identify and achieve their leadership goals.  We help clients think strategically about their leadership goals.  We help you align your goals with effective strategies designed to leverage your leadership strengths.
Coaching Assessments

We complement our coaching services with assessments that help highlight leadership strengths and improve personal self-awareness – emotional intelligence (e.g. Hogan, Birkman, MBTI, EQ-i2.0).  Self-awareness is one of the key factors that contributes to leadership effectiveness.  People who understand themselves and their environment (emotional & social awareness) make better leaders because they are more effective at building positive relationships. We believe that assessments support a coaching engagement rather than define it, so, we work with each client to determine the best choice of assessments for them.  The full range of assessments that we offer are displayed at the very bottom of this page.
Interpersonal Effectiveness:
The Thomas-Kilmann Conflict questionnaire helps people understand their negotiation and conflict management styles.
Four Approaches to Leadership Coaching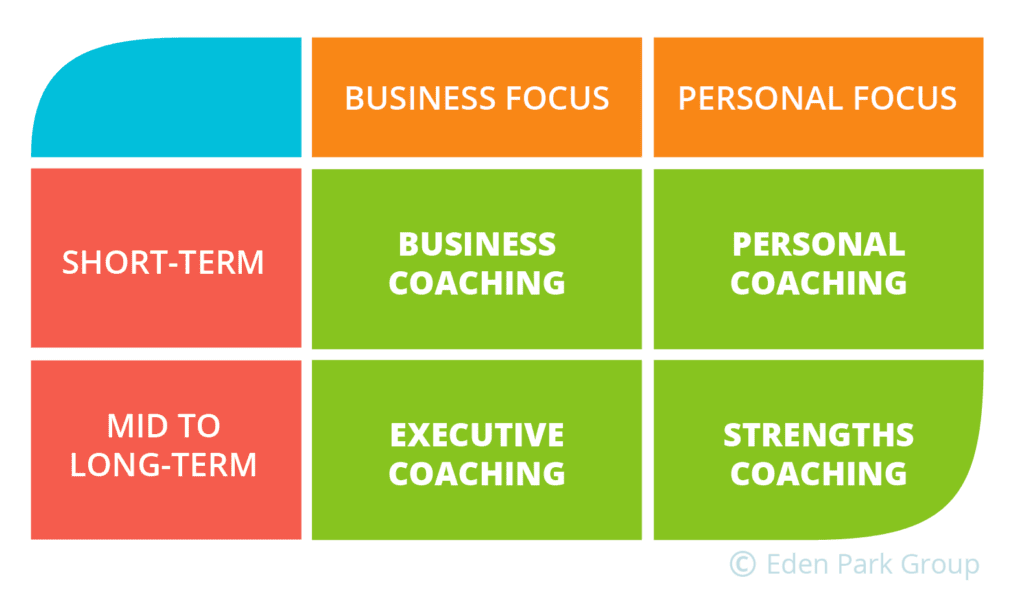 Helps leaders with new mandates take on new challenges; helps teams move to high-performance levels.
Helps leaders work through challenging issues and strategic decisions.
Enhances interpersonal effectiveness.
Builds emotional and social awareness strengths in individuals and teams.